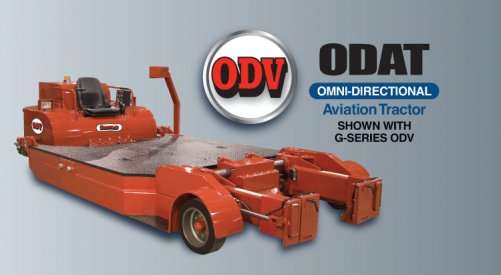 A dramatic innovation in ground support equipment
The Omni Directional Vehicle Transporter, or ODAT for short, represents a dramatic breakthrough in ground support equipment. The ODAT is an aircraft transporter, and is an accessory that can be utilized with any of the standard Hammonds ODV G30-90 series tractors. It is designed to pull or push an aircraft weighing from 30,000 - 90,000 pounds. Attached to the Hammonds ODV G Series tractor with a two-point gimbal mount, the ODAT can be controlled and manipulated by the ODV tractor just like a towbar. Our exclusive rotary hitch makes it possible to position the transporter with surgical precision handling any general aviation aircraft from light twins to the heaviest twin jets including regional jets.
STANDARD FEATURES
Dual point gimbal mount
All hydraulic operation
Pressure sensitive failsafe chock limits
Manual telescoping frame
Manual jack for ODAT connection
"Power Jog" left to right pivots ODAT from ODV
Dual 910 Ahr @ 32° 12 VDC batteries
Single motor, custom hydraulic system with manual valve override and hand operated pump
Positive transport lift lock
Docking lights
Single color polyurethane finish
SPECIFICATIONS
Tractor specifications: See G Series specifications
Overall width: 91"
Overall length: (retracted (200") (extended) 242"
Overall height ODAT to aircraft components: 17.5"
Overall tractor height: 62.5" (top of seat)
Distance from operators seat to center of gear: (retracted 121") (extended 163.5")
Maximum gear width clearance: 24.75"
Maximum gear wheel diameter: 26"
Mimimum gear wheel diameter 18"
Ground clearance below chocks: .5"
Ground clearance below ODAT frame: 3.5"
Transport lift height: 6"
Standard transporter lift capacity: 6,000 lbs.
Optional transporter lift capacity: 2,000 lbs.
Electric hydraulic system: 12 VDC
Batteries: Two (2)
Transporter weight: 5,500 lbs.
OPTIONS
Power telescopic extension
Power jack for uncoupling ODAT
On-board charging system
Jump seats
High capacity lifting
Custom paint scheme
View ODV Applications Below: