The Hammonds Companies were founded by Carl Hammonds in 1982. Headquartered in Houston, TX, the Hammonds Companies have long been synonymous with a quality line of fuel additives, fluid powered technology, fuel additives, water chlorination systems and chemical and most recently, the Omni Directional Vehicle (ODV).
In 1991, Hammonds Fuel Additives (HFA) was launched when the company purchased Biobor JF, a fuel biocide for diesel and jet fuels. Since that time, several new fuel additives and fuel quality products have been launched, serving such industries such as aviation, marine, trucking, the oil and gas industry, and off road equipment. Beginning in early 2010, a highly anticipated new family of Biobor products is being launched to these same industries, promising to deliver significant sales results and market share.
Hammonds Technical Services (HTS) is the engineering and equipment side of the business. With the U. S. Military as an early important customer, Hammonds Technical Services has quickly developed a worldwide reputation as an innovator and leader in the manufacture of fluid powered additive injection systems. Through the years, HTS has continued to lead the way in technically innovative approaches to their business.
Two other company divisions have successfully taken hold in the last several years.
The Water Treatment Systems side of the house is dedicated to redefining how potable water is treated and chlorinated safely, efficiently and reliably. In fact, the company is credited with developing the first calcium hypochlorite tablet chlorination system, in use today in cities, towns and municipalities across the USA. Similar Hammonds systems are now at work in poultry processing plants, paper mills and other industries heavily reliant on water to conduct their business.
Finally, the Omni Directional Vehicle (ODV) division is a part of the business that just goes in circles -- literally. That's because the ODV is a round vehicle that is capable of rotating in 360 degrees on its own axis, and performs by moving, pushing or towing everything from aircraft to industrial equipment to munitions loading to snow removal.
Combined, The Hammonds Companies are a mighty industry force. Solidly positioned in the industries we serve, Hammonds has an impressive list of customers. These include major oil companies such as Texaco, Exxon, BP, Fina, and others, along with thousands of other aviation, marine, oil and gas facilities and worldwide military operations. The company also has an international distributor network which provides sales and service support to our global base of loyal Hammonds customers. (We hope that you'll be joining that impressive list soon.)
Still a proud and independently operated American manufacturer after nearly 30 years, Hammonds is now owned by FabCorp, a global fabrication and machining company also headquartered in Houston.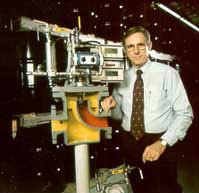 Carl Hammonds, Founder