Tablet Chlorination Model: HTS-80P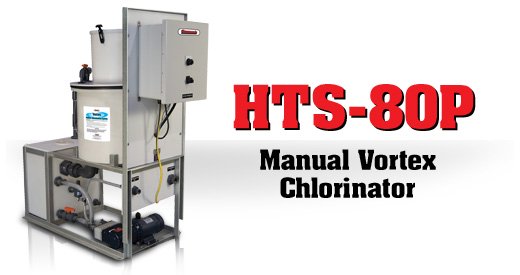 The Hammonds advanced technology vortex chlorinator takes the mystery out of on-site, engineered tablet chlorination. Not to be confused with adapted swimming pool feeders, Hammonds chlorinators are designed from scratch for municipal and industrial disinfection. A high energy vortex mixing chamber with no moving parts produces calcium hypochlorite solution at less than 1/4% (0.25%) concentration precisely metered by a positive displacement pump providing disinfection for wells to 2000 GPM. Single phase 110 VAC power at 5 amps and a water source of 8 GPM is all that is required to provide consistent stable residuals in potable and wastewater treatment. Hammonds vortex tablet chlorination systems, are the state-of-the-art in water treatment systems. Contact a Hammonds water treatment specialist today.
SPECIFICATIONS
Tablet recommendations: NSF® std. 60 listed solid calcium hypochlorite only.
Performance: Typical 50-2000 GPM wells at dosing levels up to 2 PPM
Chlorine delivery: 0-3.0 pounds per hour. Delivery will vary depending on size and manufacture of calcium hypochlorite tablet
Solution metering pump:

Type: Balanced diaphragm, positive displacement
Performance: 0-3 GPM

Chlorine delivery controls:

Manual: Pump speed with variable control
Automatic flow pacing: Automatically adjusts pump speed when supplied with 4-20mA signal from process flow meter

Tablet capacity: 80 lbs.
Water required: 8 GPM clear, potable at pressures of 30-150 PSI
Power: 110 VAC @ 3 amps
Discharge pressure: Up to 150 PSI, higher pressures available
Inlet pressure: 30 - 150 PSI
Frame material: Hot dip galvanized angle iron
Leveling legs: (4) stainless steel adjustable with leveling bubble
Dimensions: 24" W x 60" H x 49" L
Weight: 260 lbs.
ELECTRICAL SPECIFICATIONS
Enclosure: UL® listed NEMA 4X
Power supply: 110 VAC @ 5 amps, actual consumtion less than 5 amps
Pump motor: 1/3 hp, variable speed, TEFC, 90 VDC
CONSTRUCTION MATERIALS
Frame: 1/2" x 1/2" hot dip galvanized steel
Mixing reservoir: 30 gallon - polyethylene (actual used capacity approximately 6 gallons)
Tablet feeder: PVC
Solution tank: 25 gallon polyethylene 12" W x 20 1/2" H x 20" L)
Piping: Sch. 80 PVC

Inlet water supply at bulkhead: 1" Sch. 80 PVC
Outlet 1/2" fnpt
Circulation to mixing reservoir: 3/4" Sch. 80 PVC
Discharge from circulation reservoir to solution tank: 2" Sch. 80 PVC
Suction feed to pump: 1" nylon re-enforced PVC clear hose, PVC hose barbs
Pump discharge manifold to system outlet: 3/8" nylon re-enforced PVC tubing with PVC hose barbs

Relief valve: Sch. 80 PVC
Flow limiting valve: PVC
Unions/bulkhead fittings: Sch. 80 PVC
Pump suction strainer: PVC
Pump:

Fluid end: Polypropylene -Valves: 316 S.S.
Elastomers: Viton® -Diaphragm: Viton®
Lube oil: Food grade
View Water System Pages Below: